Cultivate Your Summer Self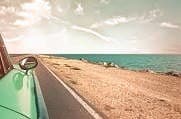 By Rebecca Sherer
Spring is in the air! The sun is shining, the flowers are blooming, and students everywhere are counting down the days until Summer break. Spring symbolizes growth, and, for high schoolers, Summer increasingly represents a time when students are able to cultivate their individual interests.
What would any of us do with two to three months of unstructured time? Read? Learn a new instrument? Finally volunteer for that charity your colleague told you about? Whatever we would choose, how a person spends their time tells a clear story about who they are and what they value.
Jeanine and I often remind students that their "resume" should tell a story about who they are and what they care about. It is the one and only way to authentically express to a college (and to themselves!) that they're truly invested in their interests. While much of our students' classroom time is structured by state standards and institutional requirements, topics they're curious about should be revealed through how they choose to spend their time outside of it.
Whether or not a student chooses to get a summer job because they want to learn how to manage their own money or take a coding class in pursuit of a dream of building virtual reality video games in the future — how a student spends their time isn't as important was why they make the choices they do.